Did Florida Governor & Sean Hannity Drop Support Of Florida Sheriff Carmine Marceno Because He Abused His Power To Pursue Women For Sex & Wanted His Baby Murdered?
There has really been no response given by either Florida Governor Ron DeSantis nor radio talk show host Sean Hannity as to why they publicly supported Lee County Sheriff Carmine Marceno, but quietly distanced themselves from him without explanation.  As rumors began to emerge about what he was doing with at least one woman by using his position as sheriff to pursue her for sex, along with a paternity suit that was about to be filed against him in which the mother alleged that he wanted the baby murdered via an abortion, one of the men deleted a supportive tweet and the other distanced himself from Marceno at public events.  They have yet to explain to the public why they did this.
Yes, this is part of the Deanna Williams story, which I have been covering for several weeks now.  To catch up on what has gone one, please visit the links below.
When I first discovered Ms. Williams story, it was about the paternity suit she had filed against Sheriff Carmine Merceno.  However, that was not what drew me to her story.  Rather, it has been the story of the previous articles that I have focused on concerning the corruption and criminality in the Florida judicial system in Lee County, including grand theft, malpractice, apparent collusion between attorneys and a judge busted in a prostitution sting.
With that said, I will address Governor DeSantis and Sean Hannity at the end of this article.  For now, understand that Sheriff Marceno came into Ms. Williams' life in 2017.  However, it's how he came into her life and how he pursued Ms. Williams for sex that should be a concern for the people of Lee County.  Furthermore, at least seven other women have said that he has pursued them in similar fashion during his time at the sheriff's office.
However, don't take my word for it, let's let Sheriff Marceno's own instant messages, Facebook pursuits and texts tell the story.
The following screenshot is from Ms. Williams' Facebook timeline.  It's important to note that Sheriff Marceno had been making comments on her pictures and "liking" them for weeks prior to sending a friend request and Ms. Williams waited several days before accepting it.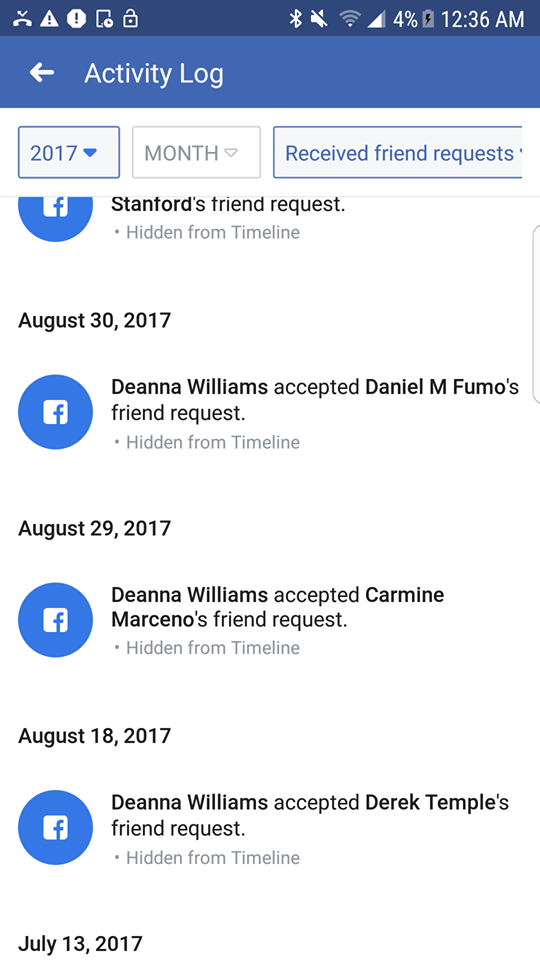 Marceno removed his likes and many of his comments from photos he had previously commented on.
Notice that she accepted his friend request on August 18, 2017.
Later, in 2018, Marceno contacted Ms. Williams after she went to the Lee County Sheriff's Office to report a grand theft of $200,000 by her attorney, G. Ware Cornell.  After attempting to seek justice in the matter through the sheriff's office, Marceno decided to pursue her on Facebook in a much more intimate manner.
Now, notice that Ms. Williams waited several days to respond to his initial question about what she did.  This was because though he had made comments and liked pictures, there had not been any interaction and she thought it somewhat intrusive that he began a conversation in such a manner because she did not know he was a part of the sheriff's office at the time.  According to Ms. Williams, an agent at the Florida Department of Law Enforcement (FDLE) believes that Marceno saw her when she came into the sheriff's office and began to pursue her at that time.
As a side note, FDLE is also preparing a report on Sheriff Carmine Marceno per a request by several Lee County reporters that was filed last week, presumably due to the reports by The Washington Standard.  We will also be receiving that report per a phone call with FDLE on Thursday and making it public when it comes available.  By the way, according to FDLE, that report has been expedited due to the serious nature involved.
The above account by Ms. Williams appears to be Sheriff Marceno's modus operandi, approaching women on Facebook and then seducing them.  Several women have come forward to say this is how he initiated contact with them.
The theft she was reporting had occurred in October of 2017 by her then-attorney G. Ware Cornell after he spoke to and promised the plaintiff in the case, Scott Mager of Mager Paruas, and she had attempted to use the means of her attorney Michael Chionopoulos to collect that money, whom I reported on here.  However, not only did Ms. Williams claim that she was forced under duress to sign over half of that money to Mager, but Mr. Chionopoulos confessed in an affidavit filed with the court that he made an "error" by negligently signing a document which gave away all future payments Ms. Williams was to receive to Scott Mager.
In looking at the previous text messages, take note of how Marceno ended the messages by claiming she had "confidence" in him to "contact" him.  That's not what took place.  It's clear he initiated the friend request the prior year.  It's also clear that in all of this, he is the one driving things towards becoming involved in something he already knew was going on with Ms. Williams.
Marceno acted like he wanted to help Ms. Williams.  In her words, "He had no intention of helping.  He dropped pursuing the crime and started pursuing me.  He used his position to gain my trust.  I was naive."
As far as Ms. Williams knows, Marceno never did a thing to help her in her criminal complaint against attorney Cornell.  In fact, just days later, he would send her a voicemail as he landed back in Florida, that was transcribed to her phone indicating he had lost documents that she sent him.
So, Ms. Williams was invited to meet at the sheriff's office the following Monday, July 23 with Marceno and the attorney for the sheriff's office, who also handles domestic violence issues for Marceno's father, who is a former baseball player for the LA Dodgers and has had many incidents with law enforcement authorities by threatening people violently, which Marceno has tried to cover, according to conversations he had with Ms. Williams.  Both men praised her for her courage and apparently flattered her heavily for coming forward.
He continues to claim he wants to help, but it's apparent that he is out to help himself to Ms. Williams.
Text messages then shifted from the sheriff's phone to his private cell phone, though many of their conversations were via voice through phone calls.
On Friday, July 27, just a little over a week after actually contacting Ms. Williams, Marceno asks her out for a drive.  They go to an establishment in Naples called Cavo, which is owned by a friend of Marceno.  There, they have a drink.  Ms. Williams says that she is not a big drinker, but that the Martini she had left her "dazed, confused, disoriented and off balance," which led her to believe something was put into the drink.
Williams does not know the name of the friend who owns Cavo nor does she remember the bartender, but claims she was a few steps from the bar facing away from it when Marceno brought her the drink.
According to Ms. Williams, Marceno wanted to take her back to his house, but she refused.  So, they go to the parking lot of a church between the gated communities they lived in.  This church is where Ms. Williams taught her kids how to drive and she said Marceno claimed he attended.
During this time in the church parking lot, Ms. Williams claimed that he tried hard to get her to have sex with him, crossing the line many times to the point of exposing his genitals to her.  In the church parking lot!
She rejected his advances believing that "this is not OK."
She finally was taken home.
Two days later, on Sunday, July 29, Marceno wanted Williams to go to dinner with him, his father and his step-mother for his father's birthday.  The previous day, he had made several attempts with Ms. Williams to get her to go to his home, which she rejected and offered to possibly meet somewhere other than his house that would be out in public.
She also took that opportunity to clarify things, as Marceno said he only wanted to watch movies and show her his remodeling.
"No," Williams said she told him.  "We're both adults and we know where that is going, so no."
When I questioned her as to why she would go anywhere, including a birthday dinner with his father and step-mother, Williams said, "I was offended by him.  It was clear that he wanted something more.  I was still trying to, and it sounds stupid and naive, I get it now, but I was still trying to tell him friendship was all I want out of this."
So, how did this progress and Williams end up pregnant?
She admitted that she made reluctant, bad choices in the matter to engage Marceno further.  However, Williams states that just a week in, during the dinner with his parents, he is pushing for a commitment of a relationship with him. She finds this ridiculous as the two don't even know each other that well.  According to Williams he explains his future plans and flatters her more with compliments.
Williams said it was way too fast for her, and he began pushing physical interaction with her constantly from that point, pursuing her daily via texts and phone calls.   Meanwhile, he was apparently doing absolutely nothing to deal with a grand theft complaint she had made and which he communicated that he wanted to help her with.
Finally, on August 1, the two engaged each other sexually.  Williams said that it was not forced but she felt tremendous pressure to engage him and was reluctant.
However, Ms. Williams stated that as days went on after that, she began to trust him and seek to reciprocate what Marceno was seeming to put forward to her as far as a relationship.  She says that she suspended her own common sense to believe what Marceno was telling her about caring for her.
However, that would quickly be turned on its head inside of two months.
On September 23, 2018, Ms. Williams texted a picture of a pregnancy test to Sheriff Marceno.  Realize, according to Williams, she had been celibate for almost 9 years.  As a side note, Ms. Williams began helping women in a foreign country who were caught up in prostitution and human trafficking following her rape in 2009.  She also aided the homeless in New York until gender confused men were allowed in with women in the showers and were committing atrocities against them, which would not be corrected.
Whatever charm Sheriff Marceno had to woo Ms. Williams along and whatever pressure he put on her to satisfy his lust, and that's what it clearly was, disappeared on September 23, 2018.  No longer did he seem concerned, but claimed he was busy and sleeping and I'll note that he continued to fail to pursue justice for  Ms. Williams in the matter she originally went to the sheriff's office about.
Before I reveal Sheriff Marceno's behavior in lengthy texts, let me make it clear that The Washington Standard reached out to him for comment about his behavior only to be hung up on.  So, the sheriff has had the opportunity to go on the record here.  Now, I'll simply let the texts between Marceno and Williams tell the story.  I'll ask you to pay attention to how Ms. Williams was concerned for his privacy and sought to be understanding about the job he had taken on.  Be patient this is lengthy but necessary to document.
That last line of questioning about her number is due to the fact that both she and her son began receiving threats.  In fact, there were posts in the thread at LEO Affairs, which have been removed but her son's name is still mentioned in the thread, that specifically posted her son's school schedule which only Ms. Williams, possibly one or two friends close to her and Sheriff Marceno knew about.
Furthermore, her son received this at school one day following the posts (phone number removed to protect his privacy).
Now, neither The Washington Standard nor Ms. Williams is claiming that Sheriff Marceno was behind the threats, but it is interesting that they began occurring following the revelation of the pregnancy and as you can see, this man was just fine ignoring his duty to Ms. Williams in her grand theft complaint to pursue his own lusts and was too immature to marry her, let alone be truly concerned for her and for his child.  He wanted the baby to be murdered.  That's what the texts indicate.
Furthermore, it has come to light that Sheriff Marceno was also seeing another woman who does not live in the continental US during the same time.  He had been seeing her for at least the previous two years.
In addition to that woman and Ms. Williams, there are at least six other women who have claimed that this is the way he operates by using his position of authority and Facebook to lure women into sex.  Furthermore, there is at least one person who has alleged that Marceno even abused his authority to lure women into sex who had been arrested and jailed.
This is not just women who know this either.  At least one other officer commented that he had to protect his own wife from Marceno's "Joe Biden"-style advances, and it appears that several other officers know about this too.  More on that from someone on the inside will come in a future article, Lord willing.
As a last point that does relate to this due to apparent fraudulent claims, in March 2018, then-undersheriff Marceno told News-Press.com, "working on finishing his college degree from FGCU."
Calls to Florida Gulf Coast University verified that while Marceno was a student, he had not attended since 2004, having never graduated.  It appears that Sheriff Marceno has some explaining to do here.
Additionally, the Lee County Sheriff's Office website seems to be promoting this fraudulent claim in his bio section stating:
In March 2017, Sheriff Carmine Marceno graduated from the FBI National Academy Session 267 and is on track to graduate with a bachelor's degree in criminal justice.
How can the man be on track to graduate with a bachelor's degree in criminal justice when he hasn't attended FGCU since 2004?
Finally, Marceno has allegedly been working with women's groups in the area.  Isn't this a dangerous position for a man of his character to be put into?  I'll let the people decide, but consider he is the one now charged with arresting Ms. Williams over a contempt order that should never have occurred in a trial that never had the evidence to move forward according to Judge Edward LaRose.
To make the web even more tangled than it already is, when Ms. Williams went to file a complaint with the Florida Bar against G. Ware Cornell and Scott Mager, she was assigned an investigator whose wife just happens to be good friends with… you guessed it, Sheriff Marceno.  Now, she has been assigned a new investigator at the Bar due to the conflict of interest with the previous investigator to take her sworn complaint.
Both Governor Ron DeSantis and radio talk show host Sean Hannity supported Marceno when he was thrust in the public spotlight back in 2018 to be appointed sheriff to replace Mike Scott, who had been sheriff of Lee County for many years.
This leads me to ask why they publicly supported him in the beginning but quietly dropped their support.
For instance, here is Sean Hannity tweeting out about "My buddy Carmine."
Later in the year just before the news broke about the paternity suit against Carmine, Hannity voiced his support of Carmine for sheriff by declaring him to be one of "Two great men" and a "great choice."
However, as a member of the media, why did Hannity apparently delete the tweet privately and retract any sort of endorsement, especially after his staff were made aware of what Marceno had done regarding Ms. Williams and the pregnancy?

According to Williams, at an event she attended where Governor DeSantis was to be speaking, she was informed that Sheriff Marceno was not welcome and that the governor was distancing himself from the sheriff.  Now, why is that?  Why are both men pictured below not informing the public about what they know concerning Sheriff Carmine Marceno?
Both men have been contacted via their websites and Governor DeSantis by email and phone and there has been no response, nor a response by the governor regarding the multiple injustices against Ms. Williams.  I thought governors were the chief law enforcement officers in the states and the media was to bring these kinds of things to light, didn't you?

On a personal level, I like both Sean Hannity and Governor Ron DeSantis, but there needs to be some accountability gentleman, and I'm going to continue to put the truth out until someone feels the heat and acts.  I hope people in the Florida area, as well as national media,  will pick up on this story and see that this kind of behavior doesn't continue to be allowed in Florida.  It's been going on far too long.  Just look at this report about how sheriff's offices in South Florida who want to file a simple complaint against an officer.
---