Audio Bombshell: Lee County Sheriff Carmine Marceno In His Own Words – Obstruction Of Justice Or Was This Complete Incompetence – Or Both?
I have previously reported on documented felon and appointed Lee County Florida Sheriff Carmine Marceno's crimes and unethical behavior.  In one report, I called out current Governor Ron DeSantis for his continued neglect in the matter along with Carmine's "good buddy" and conservative talk show host Sean Hannity for his quiet distancing of himself from Marceno after endorsing him.  In that report, I provided text messages indicating that Marceno pursued a victim of crime who came to the sheriff's office for help after her attorney stole $200,000 from her.  While another deputy was helping Deanna Williams with her report, she apparently caught the eye of then-undersheriff Marceno, who began to methodically pursue her for sex, claiming that he wanted to help her with her complaint.  However, in the midst of that, he confessed to her in a voice mail that lost had lost all the documents she gave him.  Was this incompetence or was he seeking to obstruct justice due to the fact of the unethical nature of his pursuit of Ms. Williams?
First, let's recap how Marceno began his pursuit of Ms. Williams by inserting himself into her complaint.  This comes from one of my earlier reports.
The following screenshot is from Ms. Williams' Facebook timeline.  It's important to note that Sheriff Marceno had been making comments on her pictures and "liking" them for weeks prior to sending a friend request and Ms. Williams waited several days before accepting it.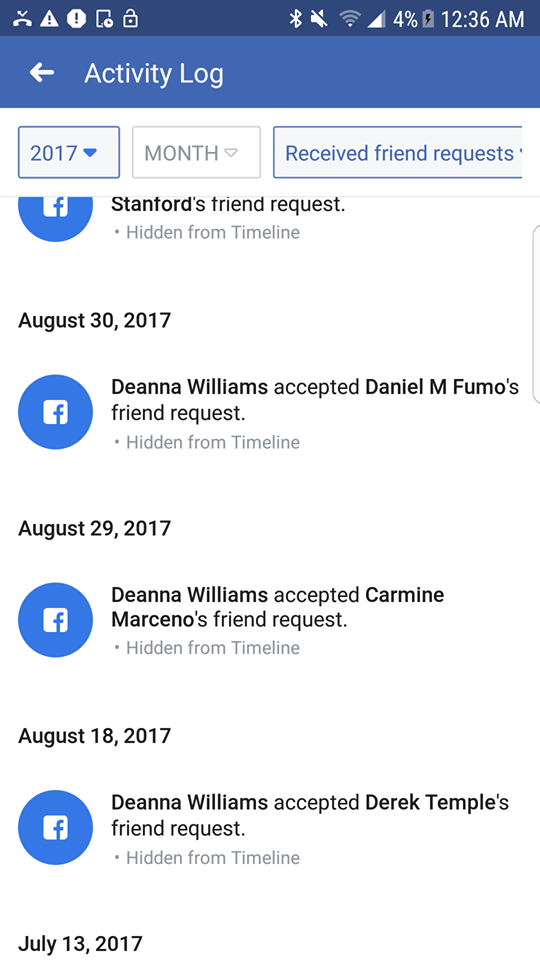 Marceno removed his likes and many of his comments from photos he had previously commented on.
Notice that she accepted his friend request on August 18, 2017.
Later, in 2018, Marceno contacted Ms. Williams after she went to the Lee County Sheriff's Office to report a grand theft of $200,000 by her attorney, G. Ware Cornell.  After attempting to seek justice in the matter through the sheriff's office, Marceno decided to pursue her on Facebook in a much more intimate manner.
Now, notice that Ms. Williams waited several days to respond to his initial question about what she did.  This was because though he had made comments and liked pictures, there had not been any interaction and she thought it somewhat intrusive that he began a conversation in such a manner because she did not know he was a part of the sheriff's office at the time.  According to Ms. Williams, an agent at the Florida Department of Law Enforcement (FDLE) believes that Marceno saw her when she came into the sheriff's office and began to pursue her at that time.
The above account by Ms. Williams appears to be Sheriff Marceno's modus operandi, approaching women on Facebook and then seducing them.  Several women have come forward to say this is how he initiated contact with them.
The theft she was reporting had occurred in October of 2017 by her then-attorney G. Ware Cornell after he spoke to and promised the plaintiff in the case, Scott Mager of Mager Paruas, and she had attempted to use the means of her attorney Michael Chionopoulos to collect that money, whom I reported on here.  However, not only did Ms. Williams claim that she was forced under duress to sign over half of that money to Mager, but Mr. Chionopoulos confessed in an affidavit filed with the court that he made an "error" by negligently signing a document which gave away all future payments Ms. Williams was to receive to Scott Mager.
In looking at the previous text messages, take note of how Marceno ended the messages by claiming she had "confidence" in him to "contact" him.  That's not what took place.  It's clear he initiated the friend request the prior year.  It's also clear that in all of this, he is the one driving things towards becoming involved in something he already knew was going on with Ms. Williams.
Marceno acted like he wanted to help Ms. Williams.  In her words, "He had no intention of helping.  He dropped pursuing the crime and started pursuing me.  He used his position to gain my trust.  I was naive."
As far as Ms. Williams knows, Marceno never did a thing to help her in her criminal complaint against attorney Cornell.  In fact, just days later, he would send her a voicemail as he landed back in Florida, that was transcribed to her phone indicating he had lost documents that she sent him.
When I wrote that, all I had was the above voice to text of the voicemail Marceno left for Ms. Williams.  Now, I have obtained the actual voicemail as many have questioned whether the texts have been manipulated.  They haven't.  Here's the proof.  Listen for yourself.
Now, people have contacted me to bad mouth Ms. Williams, but their claims are without warrant.  In fact, they are slanderous of Ms. Williams, a woman they know nothing about.  However, if you are reading this and think that Marceno is a good man, consider this was his activity as undersheriff.  He lost documents from a crime victim, a crime victim he should have never had a bit of interaction with.  This man is now sheriff!
Additionally, I have reported that LCSO provided me with documents, but not all documents I requested from their office pertaining to Ms. Williams' complaint.  They have failed to provide an initial report that indicates there was an actual report filed and a number assigned to it.  Calls to LCSO records request department, as well as the public information office, were answered only to be told that someone would call and follow up by the next day.  They never did.
Another call was made on Thursday to Tony Schall, who is in charge of the records at LCSO.  A voicemail was left advising him of the failure of LCSO to provide all documents as requested and as mandated by Florida law.  Schall was on vacation, but said to return on Friday.
Now, there are only a few possibilities in this matter:  Marceno was engaged and still engaged in a coverup of his unethical behavior regarding Ms. Williams, which might be grounds for obstruction of justice.  In fact, Ms. Williams has communicated that Marceno said he couldn't pursue the matter due to the manner in which he pursued her.  The other scenario is that the man is a complete baffoon when it comes to handling documents provided to him in a criminal complaint, which he inserted himself into without being asked.  Neither bodes well for Marceno.
For more documentation on the things that were addressed above, here are previous articles on the subject:
Article posted with permission from Sons Of Liberty Media
---