'Drug War has Failed' Governor to Pardon Thousands of People Convicted for Pot
Article first appeared at The Free Thought Project.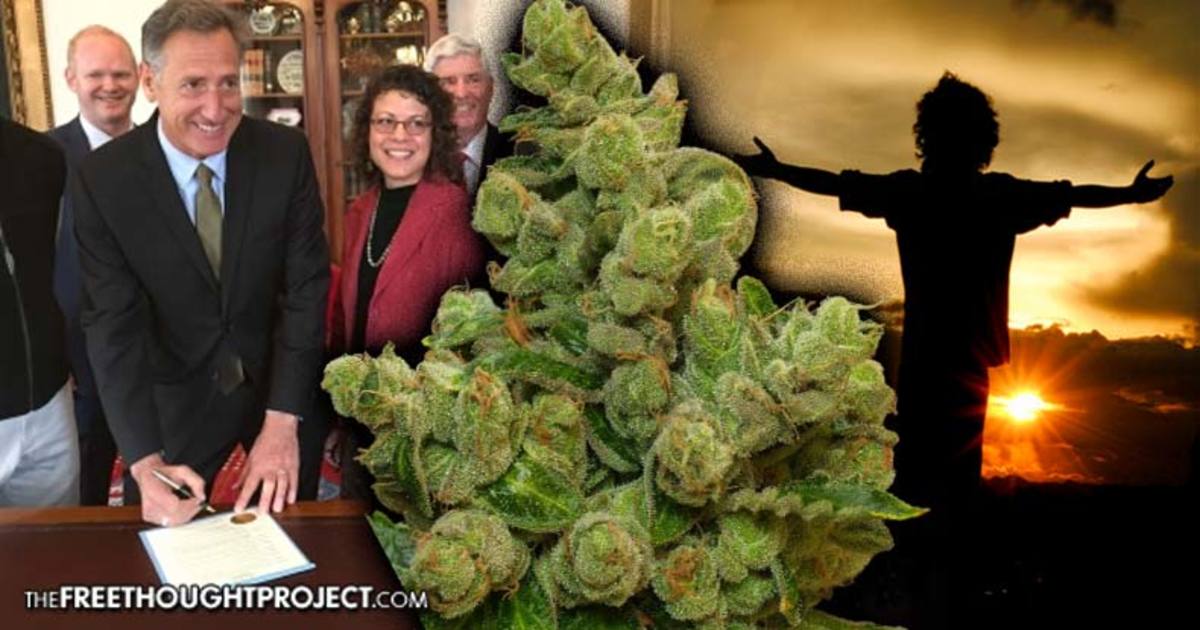 Montpelier, VT — Those members of government who are willing to challenge the status quo and stand against injustice are few and far between. Those members of government who not only stand against injustice but take action to reverse are all but entirely mythical. However, Vermont governor Peter Shumlin is one of those people.
Peter Shumlin just announced one of the boldest moves by a politician in recent history — he is going to pardon thousands of people whose lives were ruined by the war on drugs.
"Today I am announcing an effort using the Governor's pardoning power to expedite our move to a saner drug policy and criminal justice system," the Governor said on Thursday. "Decriminalization was a good first step in updating our outmoded drug laws. It makes no sense that minor marijuana convictions should tarnish the lives of Vermonters indefinitely."
According to the most recent data in 2014, police arrested 1,561,231 people for drug violations in a single year — 83 percent were possession only. Of that 1.5 million, 700,993 arrests were for marijuana — 88 percent of those arrests were for people possessing the plant only.
"It could have happened in the 1960s, 1970s, 1980s. There are thousands of them," said Shumlin.
Year after year, and now, decade after decade, millions of otherwise entirely innocent people have been deprived of their freedom, kidnapped, had their lives ruined, were thrown in a cage, or killed by police officers who are just doing their job while enforcing this immoral war on drugs.
Given these numbers, everyone in America is either related to or knows someone who has been arrested for drugs. An unfortunate minority have even seen their family members or friends slain in the name of this immoral war. The effects of police ruining so many lives enforcing drug laws have created the hostile environment in which we find ourselves today.
For those who were caught with an amazingly beneficial plant, many of them had their lives ruined as the mark on their permanent records has left them unable to find work — thus increasing their chances of turning to a life of crime.
Shumlin's program seeks to reverse this dangerous and immoral cycle.
"We've got folks who got charged for an ounce or less of marijuana in a different era when we were running a failed war on drugs. Let's give those folks the opportunity to have a clean record," Shumlin said.
Unfortunately, for the rest of the United States, this program is only available in Vermont.
According to WCAX, the deal is as follows: if you've been convicted in Vermont of possessing an ounce or less of marijuana, the governor is asking you to go to his website between now and Christmas to apply for a pardon. The offer is only being extended to applicants who do not have violent offenses or felonies on their records.
"As governor, I've been trying to lead a more sane drug policy," Shumlin said.
Those who wish to have their records wiped clean need only fill out a small form on the governor's website, here.
"Each application will be considered individually, and there is no guarantee of a pardon," notes the governor's office.
"However, I will try to get through as many as possible before the end of my administration on January 5th," Gov. Shumlin said. "This is the right thing to do."
As states legalize marijuana at an ever increasing rate, what was once illegal in many states is now legal. However, no governor thus far has mentioned releasing those who are currently incarcerated for the plant nor pardoning those who've been released. The time to do this is now.
"And there's some injustice in not having the new rules apply to those who are having their lives held back because of the old rules," Shumlin said, setting the bar for governors in legal states.
Hopefully, they will heed his advice.
Please share this article with your friends and family so that they may help push other lawmakers to do the same — and help right so many decades of wrongs.
---