First Batch Of Pfizer Docs Reveals Over 42,000 Adverse Reactions From The "Safe & Effective" Gene Therapy Shot
Just like we told you before the shots even came out, they are not safe and effective. They are dangerous and deadly. First, we reported on the over 1,200 deaths following the COVID shot in the first month of use. Now, those same documents released by the Food and Drug Administration, the co-conspirators in the murder of countless Americans, reveals there were over 42,000 adverse reactions in that same first month. They knew it and they did nothing to stop the murders and injuries from the gene therapy shot they fraudulently marketed as a "safe and effective" "vaccine."
Tyler Durden has the story.
The FDA's excruciatingly slow release of data related to Pfizer's COVID-19 vaccine has already borne fruit, and it's damning despite a trickle of just 500 pages per month out of 329,000 pages – which will take until 2076 to complete.
As first reported by Kyle Becker, there were a total of 42,086 case reports for adverse reactions (25,379 medically confirmed, 16,707 non-medically confirmed), spanning 158,893 total events.
Here is the table in Pfizer's own report pic.twitter.com/sLjSjANda9

— Patrick Phillips MD (@DrP_MD) December 2, 2021
More than 25,000 of the events were classified as "Nervous system disorders."
Another table of the 1st batch of 55 on Pfizer's adverse events data:

No wonder they don't want all the data released! pic.twitter.com/qmdi303krl

— Patrick Phillips MD (@DrP_MD) December 2, 2021
Since the vaccine has been publicly administered, there have been over 913,000 reports of adverse events in the OpenVAERS global database.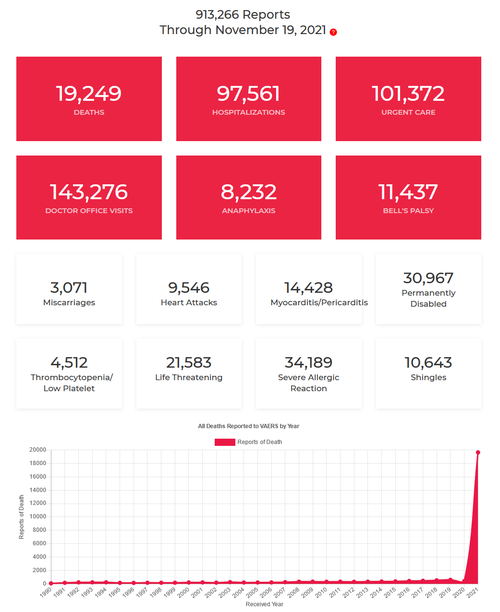 And that's just what's been reported.
Meanwhile, Twitter has suspended the account of @iGNORANTCHiMP – who brought much of this to light and corrected minor inaccuracies within his thread.
🇮🇱📢 1/ CENSORSHIP ALERT!
Our friend @iGNORANTCHiMP, Gal Shalev, was permanently suspended from Twitter today, when his tweet blew up virally, after sharing Pfizer docs handed to FDA. (See part 2)
I'm declaring a
*digital emergency state*
to protest against this censorship!!
>> pic.twitter.com/ODbEJNTiEE

— Efrat Fenigson (@efenigson) December 2, 2021
And there you have it, friends! Why has the CEO and other management in Pfizer not been arrested and charged? I'll tell you why: They bought off those who represent us in our government! These fascist Nazis are not only killing us, they are lying to us and illegally censoring those of us telling you the truth about their conspiracy and agenda! It's time justice was brought on every single conspirator's head, and now!
Article posted with permission from Sons of Liberty Media
---