Trump Kicks COVID Bill Back To Congress – Demands More Socialism With $2,000 Checks Instead Of $600
I covered the story just before President Donald Trump kicked the bill back to Congress, as well as on Thursday's The Sons of Liberty morning show.  Though He rightly called out the "unnecessary and wasteful" spending in the bill, he failed to mention it was unconstitutional.  In other words, it's unAmerican and unlawful.  Additionally, he pitted the massive amounts of unlawful spending up against the unlawful spending of checks for Americans, calling on Congress to raise the checks to Americans, which is also unconstitutional, from $600 to $2,000.  Congress appears to show that was their plan all along.
Tyler Durden has the story.
President Trump appeared to threaten to veto the COVID-19 stimulus package that Congress passed almost 24 hours earlier, telling lawmakers to boost checks for Americans to $2,000 as well as "get rid of wasteful and unnecessary items" in the spending bill
Trump said "throughout the summer, Democrats cruelly blocked COVID relief legislation in an effort to advance their extreme left wing agenda and influence the election…"

"it's taken forever" to get a package and the bill passed "is much different than anticipated."

"It really is a disgrace," he added.
Then reeled off a list of disgusting 'pork' (read the details here) that has been piled into this record-breaking 5,593-page bill.
As Axios notes, many of the items Trump listed, such as foreign aid, which were not related to COVID-19 are not part of the coronavirus relief package. These form part of the government funding bill, which was passed alongside the coronavirus relief package.
Then he took a shot at Biden and the election
"Send me a suitable bill or else the next administration will have to deliver a COVID relief package and maybe that administration will be me and we will get it done."
Watch the full statement here:
— Donald J. Trump (@realDonaldTrump) December 23, 2020
..and the market is not happy…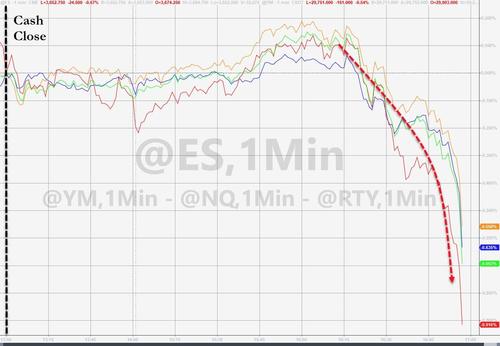 Get back to Mrs.Pelosi!
See?  Both Republicans and Democrats are acting unconstitutionally against the people here, and the more the people are divided in their party mentality, the more the tyrants are gaining ground.  Our forefathers warned us about this…
Though Our Founding Fathers Warned Us Of The Two Party System, Americans Get Played By It Every Single Day & Every Single Election Cycle
Article posted with permission from Sons of Liberty Media
---