After Trump's Executive Order, Sheriff Issues Ominous Warning to DAPL Water Protectors
Article first appeared at The Free Thought Project.
Cannon Ball, ND — After President Donald Trump issued Executive Orders greenlighting both the Keystone XL and Dakota Access Pipelines, protests erupted from coast to coast — including in the nation's capital — as the Standing Rock Sioux Tribe, Morton County Sheriff's Department, and clean energy advocates were left scrambling to make sense of the abrupt power play.
Rumors have circulated for months law enforcement would opportune the first chance to forcefully evict water protectors from the camps — whether under the guise of safety, since several sit amid a spring flood plain, or under the premise of illegality despite the location being part of lands granted to the tribe by treaties over a century ago by the U.S. government. Now, thanks to Trump, the future of pipeline opposition camps looks grim.
According to a statement,
"The Morton County Sheriff's Department is monitoring the area of the camps in the event that protestors choose to gather in opposition to the executive action. While the department does not release details of its operational plans and strategies or confirm the number of law enforcement it has available to respond at any given time, the department does have plans to respond and deal with any potential protest actions that may become unlawful. This is prudent when it comes to what the department does and how it prepares for situations."
In the same statement, Morton County Sheriff Kyle Kirchmeier issued a stern admonishment to Standing Rock water protectors (a term preferred over 'protesters' by pipeline opposition for their stance of protecting the Missouri River from contamination):
"I would like to remind any protesters to please remain peaceful and lawful in your actions. Protesters have a right to take a position on the pipeline, but they do not have the right to break the law. To introduce rule of law within the camp, we will be asking the Trump administration for much-needed law enforcement support and public safety resources, requests that were ignored by the last administration. North Dakota residents expect us to hold these unlawful actors accountable; even the Standing Rock Sioux tribe – who has hosted the protest camps – have asked the protestors to leave out of fear that their presence could pollute the waters they claim to protect. This is not about the pipeline or the protests, it is about the rule of law."
And Kirchmeier wasn't the only Morton County official to mischaracterize the largely peaceful and unarmed Dakota Access Pipeline opposition in that statement.
"We are hopeful that this announcement brings us closer to finality in what has been an incredibly challenging time for our citizens and law enforcement professionals. Having dealt with riots, violence, trespassing and property crimes, the people of Morton County are looking forward to getting back their normal lives," said Morton County Commission Chairman Cody Schulz. "This decision is encouraging because it shows that the federal government is finally interested in the rule of law. It is said that America has a 'government of laws, not men.' There is a legal and regulatory process in place for a reason – so everyone knows what the rules are, and those rules are applied objectively."
"A lot of jobs, 28,000 jobs," Trump said on Tuesday, according to ABC News, regarding the economic impact of the pipeline projects — citing a number not backed by several reports on the matter. "Great construction jobs."
What, exactly, happens next appears — at least temporarily — to be anyone's guess. But for water protectors encamped near the banks of the Missouri River's Lake Oahe reservoir — who have vowed to do whatever it takes to halt construction of DAPL — Trump's memorandum allowing Energy Transfer Partners to continue the final stages of the project represents the final threat to Indigenous sovereignty and integrity of the water supply.
"The Standing Rock Sioux Tribe said today that President Donald Trump's executive action towards an approval of an easement for the Dakota Access Pipeline risks contaminating tribal and American water supplies while disregarding treaty rights," an official statement explains. "The Trump administration's politically motivated decision violates the law and the Tribe will take legal action to fight it."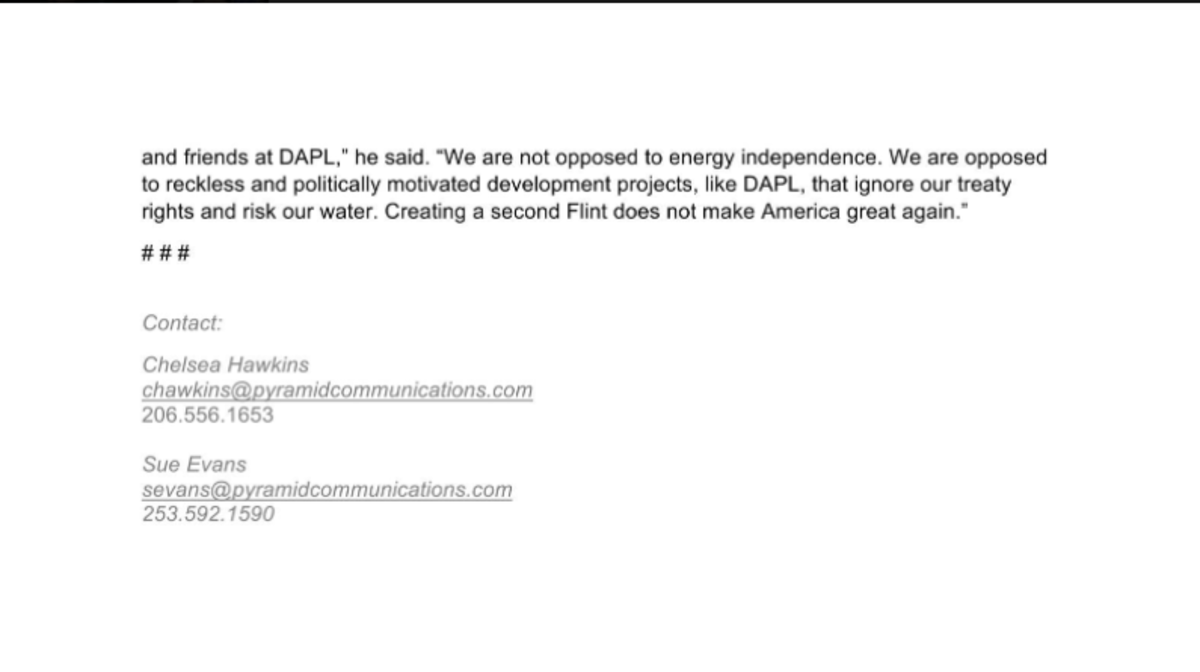 From Los Angeles and Seattle, to New York City and Washington, D.C., spontaneous demonstrations erupted after the new president's unexpectedly decisive approvals for both pipelines.
Adhering to longstanding dictates from the Standing Rock Sioux Tribe's calls for pipeline opposition to remain unarmed, prayerful, and peaceful, Native and non-Native water protectors from coast to coast broke out in song and chanted support in the streets of major cities — with large crowds amassing outside the White House in D.C. and Trump Tower in New York City.
"It's amazing the power of social media," one water protector observed from the Los Angeles rally, concerning the organic planning of events after Trump's staggering announcement.
Indeed, absent sufficient and balanced coverage from the mainstream media for months, Standing Rock water protectors have relied on platforms like Facebook and Twitter to present an accurate portrait of the quagmire that is the Dakota Access Pipeline project and its opposition.
Thousands of supporting water protectors from hundreds of Indigenous bands around the world, as well as non-Native activists, have spent time in a smattering of camps attempting to halt pipeline construction through physical occupation at the site. Several hundred are still enduring a rough and bitter North Dakota winter at the site — and have pledged to stay in place no matter the consequences of Trump's fraught executive actions.
Despite the haunting mirror to historical clashes between Native Americans and the nascent United States government — including the gruesome Battle of Wounded Knee, which occurred on the same lands — coverage by the corporate press has remained tepid, at best, often slanting neutrally or in favor of law enforcement where glaringly inappropriate.
The Troubles: Bloody Sunday — British Paratroopers open fire on and kill fourteen unarmed civil rights/anti-internment marchers in Derry, Northern Ireland.
Now that President Trump has avowed Big Oil's right-of-way on both hotly contentious projects, it would appear critically necessary attention will finally be devoted to Indigenous and people's rights over industry profits. In fact, claims the pipelines would create much needed jobs hold little basis in reality.
Keystone XL would permanently employ just 35 workers, and Dakota Access, a mere 40 in operational and maintenance positions — not to mention the latter is already more than 85 percent complete.
"The Keystone XL project," Slate reported, "which will take 800,000 barrels of oil a day from Canada to the Gulf Coast, was the subject of a largely symbolic battle waged by climate activists opposed to the continued development of fossil fuel infrastructure. It was torpedoed by President Obama in 2015, a month before the Paris Climate Summit. 'America is now a global leader when it comes to taking serious action to fight climate change,' he said upon rejecting a permit for the pipeline's construction. 'And frankly, approving this project would have undercut that global leadership.'"
However welcome the former president's disapproval of KXL, Obama remained noticeably silent on the Standing Rock Sioux Tribe's fight to prevent Dakota Access from traversing under the Missouri River just north of the reservation — a route believed to directly endanger the tribe's only water source.
Energy Transfer Partners, responsible for construction, insists DAPL poses no threat to the Missouri River — but the company's safety record says otherwise, evincing egregious breaches, spills, and leaks, and calling to question whether the pipeline's proximity to the water supply of millions is a prudent choice.
Notably, Trump's announcement immediately succeeds a motion by the tribe in support of the evacuation of camps — a direct contrast to life-or-death devotion many water protectors have declared against construction of Dakota Access.
Indeed, simmering contentions between some Standing Rock tribal leadership and other members of the tribe have fomented a near constant anxiety and a flurry of accusations something untoward may be afoot. Anyone spending time in the area will notice a pall having replaced overwhelming unity present in the pipeline opposition's early stages last spring.
Tribal council rulings seemed to tacitly confirm those longstanding suspicions over the weekend.
"Cody Two Bears, the Cannon Ball district representative to the tribal council, said the district is requesting federal law enforcement aid in removing protesters from the district and setting up posts blocking those who do not live or work in the district from entering. The district requests these actions be taken in the next 30 days," reported the Bismarck Tribune on Sunday.
Led by the Morton County Sheriff's Department, law enforcement from at least nine states have on multiple occasions acted aggressively and forcefully against unarmed, prayerful water protectors.
These barbarous crackdowns have left scores injured — several permanently disfigured — and have further highlighted that police forces are guarding pipeline interests over those of the people they were once tasked with keeping safe from harm.
Trump's action to preempt a full environmental impact study that was supposed to be performed by the U.S. Army Corps of Engineers in coming days appeared per the statement only to further embolden law enforcement to act aggressively against the unarmed collective of water protectors.
With the president's summary actions favoring Big Oil interests over the water supply of millions of Americans — and the Morton County Sheriff's Department poised to move forcefully on Standing Rock camps — the eyes of the world are once again trained on the United States in a waiting game to see whether violence against the unarmed begging for human rights will take a turn for the deadly.
---