Cops Called To School Bus After 7-Year-Old Autistic Boy With Medical Exemption Took Off His Mask
Across the world, governments are using their only tool — which is force, or the threat of — in a futile attempt to fight COVID-19. Because the government does not act on logic and reason and instead makes knee jerk reactionary measures that almost always end in loss of freedom, the citizens are growing weary of their actions. Children, who do not understand the complexity of such arbitrary dictates are hit the hardest when it comes to issues like mandatory masks.
For those who have been paying attention, the "experts" on the coronavirus have been the complete opposite of consistent when it comes to advising Americans on how to react to the pandemic. Since the lockdowns began in March 2020, hypocrisy has been at the forefront and masks are on the main stage.
Despite little to no evidence of masks having an effect on childhood COVID-19 transmission, schools across the country continue to force them to mask up at school — even outside on the playground. Children with autism, who have sensory issues, are hit hardest by this ridiculousness.
Illustrating just how ridiculous the police state madness can get is the following story out of Washington, D.C. As NBC Connecticut reports, a mother and dozens of concerned parents protested outside the Office of the State Superintendent of Education (OSSE) in Washington, D.C. Wednesday night after police were called to a boy's school bus because the boy, who has autism, kept taking off his mask. 
"I was hurt, like really hurt," Chioma Oruh said about the moment police were called on her 7-year-old son, Jideofor or "Jedi," after he kept removing his mask around two weeks ago, according to the outlet.
According to Oruh, Jedi has multiple sensory issues due to his autism which is why he took off his mask on the bus.
"And he took the mask off on the bus because he has a sensory processing condition, along with his autism," Oruh said. "The trust I put in OSSE was just violated."
Oruh said that last week, she put her two sons on the bus, both of whom have autism, when she noticed it stopped just after rolling forward. She walked over to the bus to see why it stopped and the bus attendant told her Jedi kept taking off his mask.
The bus attendant told Oruh that her son's refusal to wear a mask on the bus violated protocol and she must remove him. She refused, telling them she had note from the doctor which excludes him from wearing a mask because of his autism. Oruh submitted the letter to the school district on March 11, weeks before this incident.
The note states her son Jedi "should not be excluded or sent home if he refuses to wear the mask as long as he remains symptom-free and has no known COVID contacts."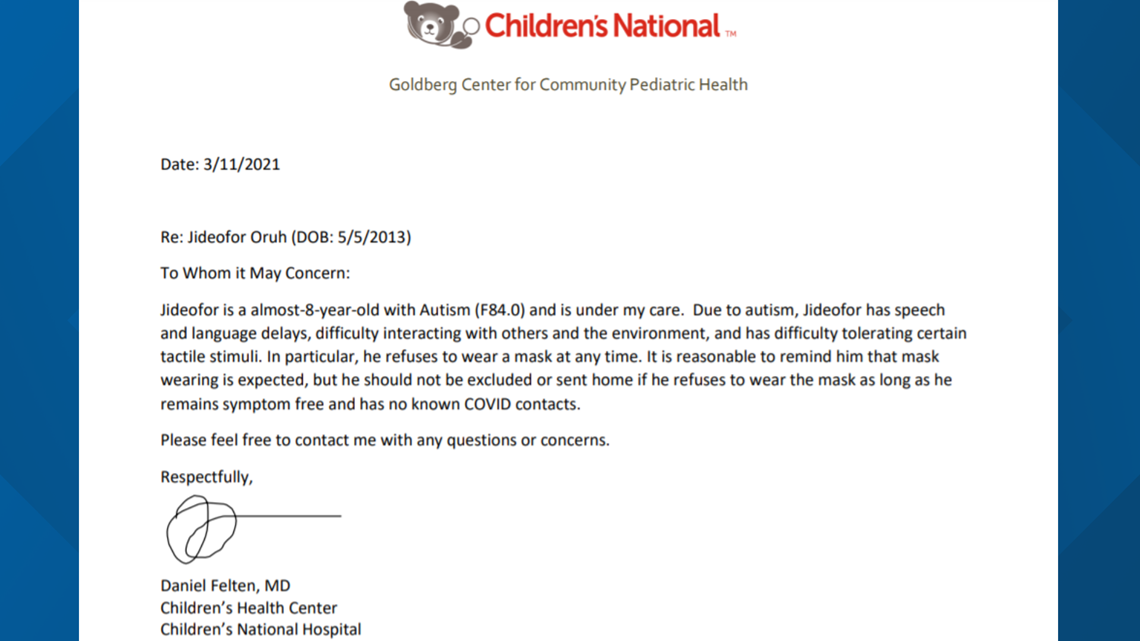 After refusing to leave the bus, police were called, at which point Oruh pulled out her phone to start recording.
"I was very annoyed. I was starting to cry because I couldn't believe how this happened," Oruh said.
Luckily, no one was arrested but the school district wasted no time blaming Oruh for the entire ordeal.
"An OSSE Division of Student Transportation bus driver called for MPD support to help de-escalate a situation in which a parent would not leave a school bus, which was impairing the ability of the bus to transport students to school. The call was made after the driver and her dispatcher had been in conversation with the parent and there was disagreement about safety protocols for her child on the bus, and the parent refused to leave the vehicle."
However, Oruh explained she never entered the bus and she never started filming until after the police arrived. Also, she had submitted the letter to the school from the doctor which specifically stated Jedi did not need to wear a mask because he has autism.
Oruh explained that situations like this one do not often end peacefully and other children with autism have not been so lucky.
"Our children deserve health care interventions, right? therapeutic interventions," Oruh said. "It's bigger than my family, even though it's very personal to my household, and my children's emotional health, and their sense of dignity. This is not the worst possible outcome, scarily, and unfortunately, I get to kiss my baby to sleep. He's still with me."
Article posted with permission from Matt Agorist
---