Google "Election Medding" Whistleblower Robert Epstein's Wife Dead in Car Crash at 29
Robert Epstein is the man who blew the whistle on Google's election meddling, and now his wife, who was only 29 years old, has died in a car crash.
The Daily Mail reports:
The wife of a Google whistleblower, who exposed meddling in the 2016 election, died Friday night just days after she was seriously injured in a car crash.
Psychology professor, Robert Epstein, 66, shared in a heartbreaking tweet announcing that his wife, Misti Dawn Vaughn, died after her vehicle spun out of control along a slippery road in California and into the path of a tractor-trailer.
'My beautiful wife Misti, a published poet, succumbed last night to injuries sustained in a car accident,' her grieving husband wrote.
'I was supposed to die in your arms some day, but a slippery road has ruined everything. You were not just my love, you were my greatest adventure.'
Misti, 29, reportedly lost control over her Ford Ranger just after 8am Monday morning.
According to the San Diego Union-Tribune, she was driving along rain-slick Interstate 15 in Escondido when the accident occurred.
When her truck spun out of control it crossed into the path of an oncoming big rig that was hauling two dump trailers.
…
California Highway Patrol spokesman Officer Mark Latulippe told the news outlet that the 50-year-old driver of the tractor-trailer was unable to avoid hitting the woman's truck and struck the passenger side of the pickup.
Moments later, a 19-year-old woman who was driving a Toyota 4Runner was also unable to avoid the accident in front of her and struck the Ranger.
The victim was treated at the scene for her injuries before being rushed to Palomar Medical Center. Both the big rig driver and the 19-year-old woman were uninjured.
Drugs or alcohol aren't believed to be factors in the crash. A police investigation is ongoing.
On Twitter, several people expressed their condolences to Epstein, who has been a critic of Google's operations and ethics.
Investigative journalist Corey Lynn reported on Dr. Epstein's Twitter storm and work earlier this year.
Due to Google's manipulations, it impacted election votes by 2.6 – 10.4 million in Hillary Clinton's favor. This detail created a twitter storm when Trump took to Twitter on August 19, 2019 to point this fact out.
Twitter Storm Ensued Between President Trump, Hillary Clinton, And Dr. Robert Epstein Over Google's Impact On Elections
On August 19, 2019, a ferocious twitter storm ensued between President Trump, Hillary Clinton, and Dr. Robert Epstein. It was really quite a show to witness, and not only did Dr. Epstein hold his own, he took Hillary all the way to the bank and left her standing penniless.
It began with a tweet by President Trump regarding Google's interference in the elections. Hillary came back with a wisecrack that was so off base, Dr. Robert Epstein went on a tweetstorm – understandable so.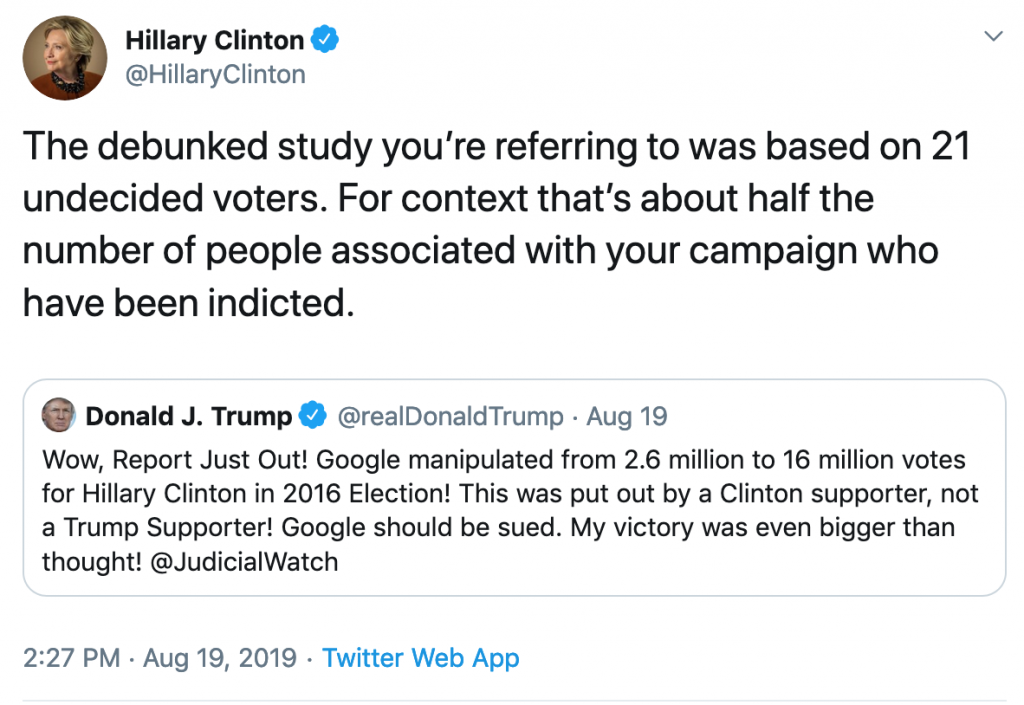 Whereas President Trump's numbers were a bit escalated from the report itself, Hillary delivered two flat-out lies, which is par for the course.
Dr. Epstein took to twitter calling out Hillary on her lies.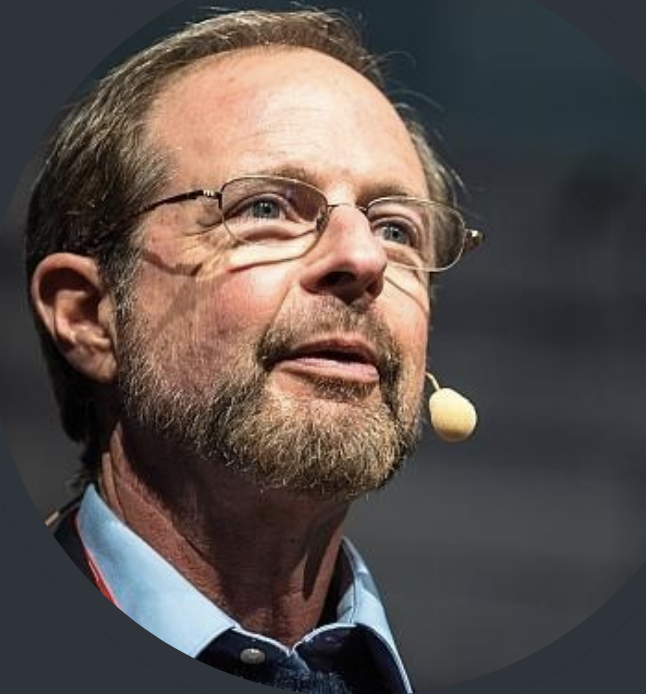 #Hillary: If my work has been "debunked," why was it included in a volume just published by #Oxford U.? Why have I been invited to speak about it at prestigious venues worldwide: #Stanford U., #Yale Law School (where both you & Bill went), even our #Senate (where you served)?
Not only did he put her in her place, he posted all the facts, including his 28-page report titled 'Why Google Poses a Serious Threat to Democracy, and How to End That Threat' that was submitted before the United States Senate Judiciary Subcommittee on the Constitution on Tuesday, June 16, 2019. He posted his reports on Taming Big Tech and The New Censorship, and he went on Fox News declaring:
Eric Schmidt of Alphabet/Google offered to head up her tech campaign and setup a secretive organization called The Groundwork, to put her into office.

Analysis came because I Preserved 13, 207 election related searches and the 98,044 web pages to which the search results linked. This was a big sophisticated analysis.
Dr. Robert Epstein suggests that Google poses three serious threats to humanity:
1) An obscene level of surveillance across 200+ platforms.
2) The power to determine what content 2+ billion can or cannot see.
3) Invisible manipulation on a massive scale.
In regard to the impact it has on elections, Epstein stated, "Bottom line: biased search results can easily produce shifts in the opinions and voting preference of undecided voters by 20 percent or more –up to 80 percent in some demographic groups….In the weeks leading up to the 2018 election, bias in Google's search results may have shifted upwards of 78.2 million votes to the candidates of one political party (spread across hundreds of local and regional races.)"
And just to be sure he didn't miss a beat, he did an interview with The Epoch Times, which was a one-hour segment including Google whistleblowers Greg Coppola, and Zachary Vorhies.
Dr. Robert Epstein, Ph.D., is a Senior Research Psychologist for the American Institute for Behavioral Research and Technology, the former editor-in-chief at Psychology Today, and has authored 15 books.
"My recent research demonstrates that Google's "autocomplete" search suggestions can turn a 50/50 split among undecided voters into a 90/10 split without people's awareness."
Was foul play involved or was this just a coincidence in timing?
One always has to wonder in America today, especially among the corrupt in this country.
How many bodies have been strewn along the landscape in the wake of Bill and Hillary Clinton?
And let's not forget that the original "Q" was the CIA's In-Q-Tel, which funded the very startup of Google.
Article posted with permission from Sons of Liberty Media
---