President Donald Trump Has Sought To Keep His Promises Concerning Illegal Aliens
When President Donald Trump took office, one of his major campaign promises of dealing with illegal immigration began with a series of executive orders.  Now, eight months later, the fruit of those actions are seen in the number of arrests of illegal aliens in the US.
Let's take a look at some of the things that have taken place.
First, in April, Newsweek published "OBAMA VS. TRUMP: WHO HAS DEPORTED MORE IMMIGRANTS?"
Donald Trump was the self-described "law and order candidate," who vowed five days after he won the U.S. presidential election to immediately deport 2 to 3 million undocumented immigrants who had committed crimes. Now, 91 days into his presidency, new figures show he has fallen far short of that promise.

Between Trump taking office on January 20 and March 13, U.S. Immigration and Customs Enforcement arrested 21,362 undocumented immigrants and deported 54,741 people. Compared to the same period last year, this marks both an increase and a decrease. Under Trump, arrests are up by 33 percent, but deportations are down by 1.2 percent.

The comparatively small drop in deportations is not necessarily a sign that the law and order candidate has gone soft. Unlike arrests, deportations are not instantaneous acts. But it signals that Trump so far hasn't been able to carry out his campaign promises to push for mass deportations and arrests. He hasn't even managed to beat former President Barack Obama's record. Under the Obama administration, ICE agents arrested 29,238 undocumented immigrants in the first few months of 2014.
First, consider that there was a change of administrations going on and there was the implementation of new policies to direct those in charge of dealing with these issues put in place.  With the size that the DC government, there is no doubt that things would have to get started and altered to begin doing what was ordered.
Second, Newsweek never cites what Obama implemented in policy that led to the lower numbers after 2014, which the Trump administration came into.  DACA and other policies, in which the Obama administration thumbed its nose at immigration law, were implemented in November 2014 and the numbers for 2015 and 2016 greatly declined.
Newsweek also failed to report that compared to the same period last year, there were only 16,104 arrests.  And even those were not the complete numbers.
TIME issued the full numbers of that period as they reported just ahead of Trump's first 100 days, "According to statistics provided by Immigration and Customs Enforcement, a total of 35,147 arrests were made between January and March of 2017, up from 26,471 made in the first three months of 2016."
From the ICE website: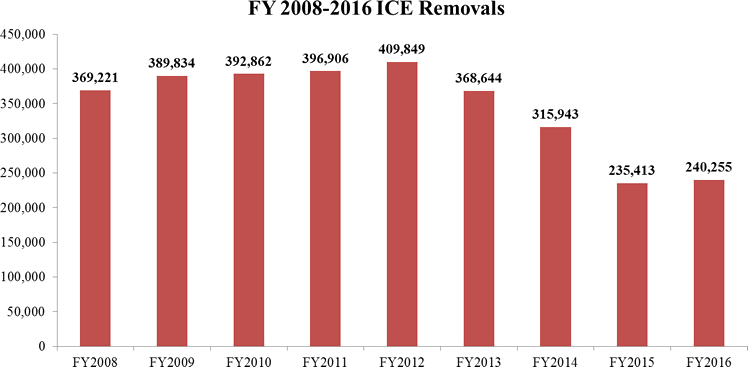 The deportation numbers would be lower than the arrests as there is a process that illegals have to go through in order to deport them.
Still the ICE website reported on the first 100 days:
Between Jan. 22 and April 29, 2017, ICE Enforcement and Removal Operations (ERO) deportation officers administratively arrested 41,318 individuals on civil immigration charges. Between Jan. 24 and April 30, 2016, ERO arrested 30,028.
"These statistics reflect President Trump's commitment to enforce our immigration laws fairly and across the board," said ICE Acting Director Thomas Homan.  "ICE agents and officers have been given clear direction to focus on threats to public safety and national security, which has resulted in a substantial increase in the arrest of convicted criminal aliens. However, when we encounter others who are in the country unlawfully, we will execute our sworn duty and enforce the law. As the data demonstrates, ICE continues to execute our mission professionally and in accordance with the law, and our communities will be much safer for it."
Those arrests were an increase of 40%!  Of course, CNN tried to put it in the worst possible light claiming, "Despite tough talk and more arrests, deportations slow under Trump."  However, once again, they fail to tell you why that is and it's because of the transition in policy from one that thumbed its nose to immigration law to one that sought to enforce it.
Also in April, even the left-leaning, Democrat-covering Politifact had to admit that Trump was right when he stated that illegal immigration across the US-Mexico border is "the lowest in 17 years," and that's according to the Border Patrol.
In June, Fox News also pointed out why deportations fell even though arrests were up.
"Trump boosted immigration arrests by 38 percent in the early days of his administration, but deportations fell from a year ago as activity on the U.S.-Mexico border slowed," the network reported.
Not only were policy changes in effect, but there were obvious self-deportations and a lower number of people attempting to cross the border knowing that the current administration had been very vocal about dealing with them.
Additionally, Reuters also reported in June that the Trump administration was even targeting illegal immigrants who were given reprieves from deportation by the Obama administration, which was said to be a "prioritizing of illegal immigrants who had committed serious crimes."
The Washington Times, hardly a Trump supporter, reported in August:
President Trump has overseen huge increases in arresting illegal immigrants inside the U.S., pushing them through the immigration courts toward deportations and stopping newcomers from entering along the southwestern border, according to statistics released Tuesday.

While the giant border gains reported in the early days of the presidency have diminished, Mr. Trump is still well ahead of the Obama era, with the number of illegal immigrants being snared — a measure of the overall flow — down by 46 percent in July compared with the same period last year.

The immigration courts are also moving faster in ordering deportations, issuing nearly 50,000 removal orders from February through July — up 28 percent compared with the same period last year under President Obama.

Administration officials said the numbers show Mr. Trump has taken the immigration issue seriously, which was one of his most prominent campaign promises.

At the border, the U.S. is on pace for the lowest number of apprehensions in four decades. That number is considered a rough yardstick for the overall flow, meaning a drop in the number of people caught signals a drop in the overall flow of illegal border crossings, officials say.
So, from all the reports and all the numbers I can find, it appears that that Trump administration is actually beginning to turn the bus around from when Barack Hussein Obama Soetoro Sobarkah decided that immigration law was not smart and made no sense.
We should see new numbers for FY2017 coming out son and that will tell us a little more.  Until then, it does appear that he is moving in the right direction.
---