Twitter Suspends "Maxwell Trial Tracker' Account That Tweeted Facts About Ghislaine Maxwell
Update: The owner of the page posted a screen grab noting that Twitter deleted the page for "spam."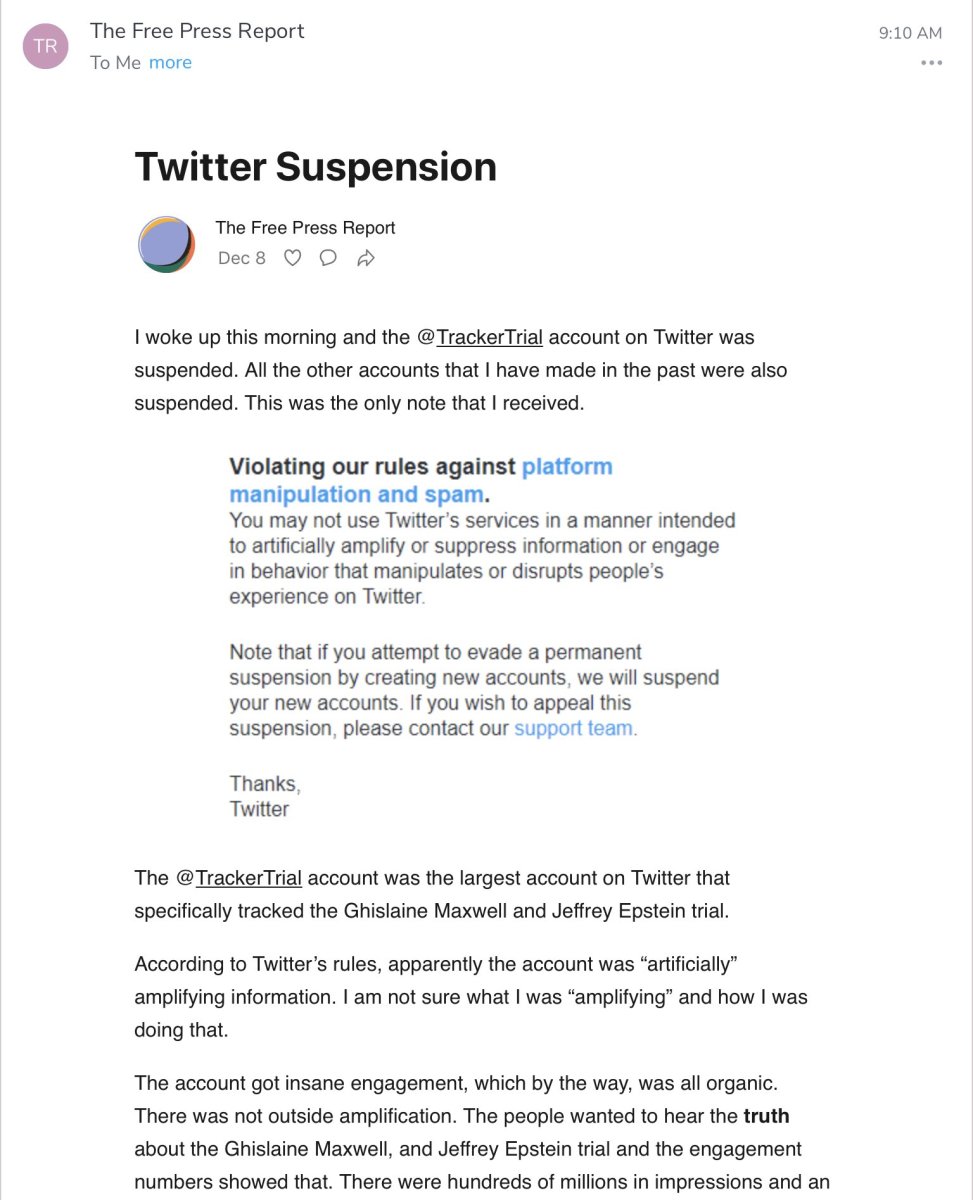 On Wednesday, Twitter suspended the account that was live-tweeting the trial of Ghislaine Maxwell, the woman accused of participating in and trafficking in child sex abuse alongside convicted pedophile Jefferey Epstein.
As I predicted, the @TrackerTrial account tweeting factual information about the Ghislaine Maxwell trial was quickly suspended.

Why does exposing elite pedophile rings offend Twitter? https://t.co/RwsPyFUj03 pic.twitter.com/vUVX7UGi2L

— Dan Cohen (@dancohen3000) December 8, 2021
Counting the days until this account is suspended https://t.co/sUGXvKs7Vd

— Dan Cohen (@dancohen3000) December 8, 2021
On the same day, the Nancy Pelosi Portfolio Tracker, an account associated with the Maxwell account, was also suspended.
They suspended @NancyTracker pic.twitter.com/0T8iF6udBA

— ✨Lucrative Lu✨Director of Harambe Resources (@LucrativeLuApe) December 8, 2021
Twitter has not yet responded to inquiries as to why the account was suspended. However, the account has posted multiple images of elite individuals in photographs with the accused child sex trafficker. As the company recently updated their terms of service which bans people for sharing photos of other people without their permission, this could be a possible reason for the move.
As we reported, Maxwell, the British socialite and media heiress who became a confidante of disgraced financier Jeffrey Epstein, who was later accused of aiding the billionaire pedophile in trafficking children, is going to trial today. She will now face allegations spanning the course of 25 years in federal court in Manhattan on everything from participating in underage sex to trafficking young girls.
"As alleged, Ghislaine Maxwell facilitated, aided, and participated in acts of sexual abuse of minors," said acting U.S. Attorney Audrey Strauss. "Maxwell enticed minor girls, got them to trust her, and then delivered them into the trap that she and Jeffrey Epstein had set."
The potential to expose elites connected to Maxwell and Epstein make this trial a possible pivotal moment in the movement to go after these people. However, as we've reported for years, every time it seems like this group of people may be exposed, people die, things get swept under the rug, or special treatment grants these predators a pass. The mainstream media, whether deliberate or not, also plays a role in keeping this information from you.
As we predicted, Maxwell's trial had very little chance of transparency and coverage and this move by Twitter highlights this problem.
Article posted with permission from Matt Agorist
---