Wealth Gap Grew During CONvid-1984: The Rich Got Richer
No surprise here!  Especially, with Trump, Democrats and Republicans giving away the store, allowing tyranny to run rampant and engaging in it themselves and promoting the greatest hoax of all time.  Yet, here is the download on how American billionaires performed while the American people were raped and exploited.
Tyler Durden has the story.
We've all been affected by the pandemic-induced mayhem of 2020. But, as Visual Capitalist's Carmen Ang notes, when it comes to finances, some have fared far better than others.
While job loss persists for Americans making less than $20 an hour, the rich have gotten richer. More specifically, the most wealthy American billionaires have seen their net worth bounce back dramatically, thanks to strong stock market performance.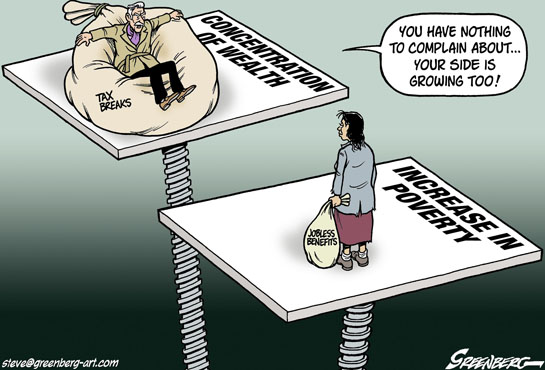 Here's a look at who's gotten richer since the market bottom in March 2020, and just how much their net worth has increased since then:
BILLIONAIRE NET WORTH GROWTH IN 2020
Between March's market bottom and December 2020, the billionaires included on this list grew their wealth by 57% on average. Interestingly, that's about 10 percentage points higher than the overall growth of the S&P 500 index during the same time period.
Elon Musk saw the highest increase during this period, with a $129 billion boost in net worth—that's a whopping 523% in gains.
This makes sense considering the year Musk has had. Tesla's market value has skyrocketed throughout 2020, and SpaceX's long-term valuation doubled after making some monumental strides in the private space industry.
Jeff Bezos saw the second-highest growth in net worth with a $74 billion increase. This isn't surprising, given that Amazon's stock price has climbed 69% since the beginning of 2020.
But Amazon hasn't been the only company to benefit from the accelerated e-commerce market—other retailers, like Nike, have also seen a significant boost in online sales this year as well.
BILLIONAIRE WEALTH, IN GENERAL, IS UP
It's not just the billionaires on this list that have increased their wealth. In fact, during the pandemic, billionaire wealth on average has increased 27% worldwide. Growth has been exceptionally strong in tech and healthcare.
Will things level out post-pandemic, or will the wealth gap continue to grow?
If the World Economic Forum has anything to do with it, you and I will own nothing once they are done with us.  This is why it is vital we continue to expose their evil deeds and seek justice in the matter.
Article posted with permission from Sons of Liberty Media
---