Bernie Sanders Uses Presidential Campaign To Fundraise For Jihad Rep. Ilhan Omar's Reelection
America's kapo has once again betrayed the Jewish people, by aligning with another vehement hater of Israel. Bernie Sanders' is quite simply an utter disgrace, and one of the worst human beings to ever run for POTUS. If Sanders is elected president he will finish the U.S-Israel relationship. #Jexodus!
Bernie Sanders Uses Presidential Campaign To Fundraise For Ilhan Omar's Reelection
Molly Prince, The Daily Caller, July 17, 2019:
Presidential hopeful Sen. Bernie Sanders (I-VT) began fundraising for Minnesota Rep. Ilhan Omar (D-MN) on Thursday in response to a Trump rally that broke out with the crowd chanting "send her back" directed at the Somali-born congresswoman.
"Can you split a $2.70 contribution between Ilhan Omar's re-election campaign and our campaign for president?" Sanders' 2020 campaign wrote in an email. "Send a message that we will fight back against Trump's racism."
President Donald Trump prolonged an ongoing feud between himself and four progressive congresswomen, collectively known as the "Squad," during a rally in North Carolina on Wednesday. The Squad, consisting of Omar, Rep. Alexandria Ocasio-Cortez (D-NY), Rep. Rashida Tlaib (D-MI), and Rep. Ayanna Pressley (D-MA), has been a recent target of the president for their socialist policies prescriptions and anti-America and anti-Israel rhetoric.
"So Representative Omar blamed the United States for the terrorist attacks on our country, saying that terrorism is a reaction to our involvement in other people's affairs," Trump told the crowd during his rally. "She smeared U.S. service members involved in 'Black Hawk Down' — in other words, she slandered the brave Americans who were trying to keep peace in Somalia."
Last night, I was with @IlhanMN when we heard people at Trump's rally were chanting "send her back."

She was unfazed. Sadly, she said, this racism isn't new.

Ilhan has incredible courage. She won't back down to Trump's hate, and neither will we. https://t.co/APxYmEJSOT pic.twitter.com/4BJefURuwP

— Bernie Sanders (@BernieSanders) July 18, 2019
Sanders never met a Jew-hater he didn't like.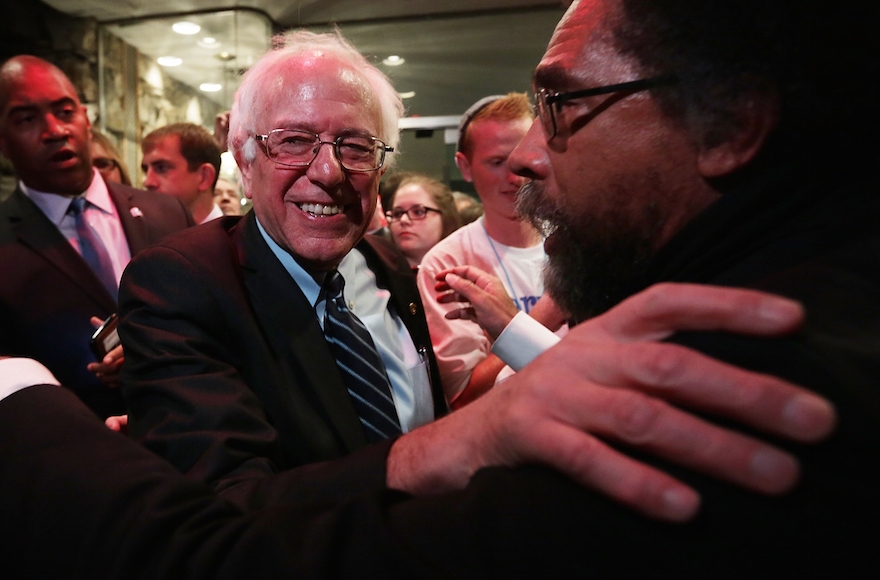 Article posted with permission from Pamela Geller
---