#EatTheChildren Goes Viral On Twitter As Fake AOC Constituent Loses Her Mind Over Non-Existent Climate Change – AOC Remained Silent
I have never heard such a ridiculous claim come out of someone's mouth as a Swedish constituent of Alexandria Ocasio-Cortez as she stood up in a townhall meeting and declared that AOC was really wrong and we don't have 12 years till the end of the world, but just a few months and so no having babies or any of these other "solutions" to deal with the climate change hoax is not enough, we have to start eating babies.  That's right, she called for eating our own children, which then led to #EatTheChildren trending on Twitter.  Turns out, she was a plant, but the telling thing is that no one in the room made any attempt to disagree with her.
After claiming we only have a few months left on the planet, this woman stood in front of everyone and yelled, "We got to start eating babies! We don't have enough time! … We have to get rid of the babies! … We need to eat the babies!"
What I found so odd was that AOC just stood there and listened, didn't calm her down, didn't say "you're wrong" and didn't even bat an eye.  Even more disturbing are the people around her.  No one looked shocked in the least at what she was communicating.
Take a look for yourself.
One of Ocasio-Cortez's constituents loses her mind over climate change during AOC's townhall, claims we only have a few months left: "We got to start eating babies! We don't have enough time! … We have to get rid of the babies! … We need to eat the babies!" pic.twitter.com/uVmOnboluI

— Ryan Saavedra (@RealSaavedra) October 3, 2019
This then led to #EatTheChildren going viral on Twitter.
"Who knew the Green New Deal was a cookbook?" – Rush Limbaugh, just now.
https://twitter.com/ThePeoplesCube/status/1180152843027787778
I'm actually warming up to the whole #EatTheChildren idea pic.twitter.com/SU41o2cCZa

— Thiswe'lldefend (@MarkAusten6) October 4, 2019
https://twitter.com/seoulstiice/status/1180193105586397186
Jeffrey Dahmer is interested in an event that you are.#EatTheChildren pic.twitter.com/F4yu3Cy7F3

— Willi Woz (@williwaws55) October 4, 2019
plz don't #EatTheChildren! pic.twitter.com/9p1Xu6IWCO

— Sean Kaen (@OddNMacabre) October 4, 2019
Someone actually called out the obvious on this one.
Doesn't the elite already do this? Or? Thank god the kids know their rights.. #EatTheChildren pic.twitter.com/4kXXaob2Cv

— Mustachetrader (@mustachetrader) October 4, 2019
https://twitter.com/diclark224/status/1180153084795858946
Libertarian commentator Julie Borowski put out this little rant.
The time to freak out is NOW. #EatTheBabies #EatTheChildren pic.twitter.com/dwFudApR4x

— Julie Borowski (@JulieBorowski) October 4, 2019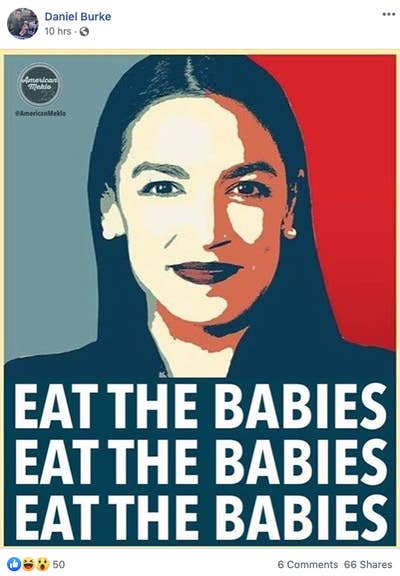 Some of the tweets were so vile with images of children, I simply won't post them here, but know this:  God will not be mocked by this attitude.
Later, however there was a tweet that read, "The LaRouchePAC boasted being behind #EatTheBabies and #EatTheChildren . That's a big mistake on their part, as they're despised by even most right-wing fever swampers."
Well, did anyone appear shocked at the comments or did they look on as if there wasn't a problem with what the woman said?  I'm not justifying putting her in there to do it, but it appeared that there was absolutely no disagreement with what she proposed.
Buzzfeed adds:
Ocasio-Cortez later tweeted that she was concerned the woman at the town hall was "suffering from a mental condition" and that she wanted to treat her with compassion. She also admonished right-wingers on Twitter for mocking the woman.

After the video went viral, a group called LaRouche PAC — which is affiliated with people with a long history of peddling unfounded conspiracy theories that has now turned pro-Trump — took credit for planting the woman at the town hall meeting in an attempt to "troll" Ocasio-Cortez and mock the climate change crisis.

The fringe group, founded by conspiracy theorist Lyndon H. LaRouche Jr., who died earlier this year, believes climate change is a hoax and compares carbon dioxide reduction policies to "genocide."

"LaRouchePAC trolls AOC, AOC doesn't rule out eating babies," the group said on Twitter.
And LaRouchePAC was exactly right.  She didn't and neither did anyone in that room!
While I don't believe in some people's misinterpretation of Bible prophecy like this woman, I do think the image portrayed the proper message or repentance.
#EatTheChildren THIS WORLD IS SOOOO EVIL! PROOF OF END DAYS!!! pic.twitter.com/TQSG6C1fG3

— GINA HOLLIN (@GinaHollin) October 4, 2019
It is noteworthy, and I have made the point before concerning the use of murdered babies for flavoring in foods, drinks and being injected into people's bodies through vaccines, God does warn that part of His judgment on a people that turn from his law is that they will eat their children.
And thou shalt eat the fruit of thine own body, the flesh of thy sons and of thy daughters, which the LORD thy God hath given thee, in the siege, and in the straitness, wherewith thine enemies shall distress thee: -Deuteronomy 28:53

And ye shall eat the flesh of your sons, and the flesh of your daughters shall ye eat. -Leviticus 26:29
God did promise those as curses to Israel before He utterly destroyed them and the Jewish historian Josephus
documented several accounts of this as part of God's judgment upon Jerusalem in AD 70.
While I don't believe we are in the last days of human history, unless we repent, we just might be in the last days of the united States of America.
America's greatest enemy is our Creator, whom we have offended greatly by violating His law.  It's time that we repent of our sins, embrace the Lord Jesus Christ and go forward to restore justice in our land lest we be destroyed.
Article posted with permission from Sons Of Liberty Media
---