Largest Power Grid In US Is "On Alert" For Second Day
The United State's largest power grid is under extreme stress and on alert for the second day in a row. PJM Interconnection LLC declared another Energy Emergency Alert Level 1 through Friday due to excessive heat advisories.
These alerts cover much of PJM's grid across 13 states, from Illinois to New Jersey, with over 65 million customers.
The latest National Weather Service data shows that advisories and warnings for heat plague most of PJM's grid.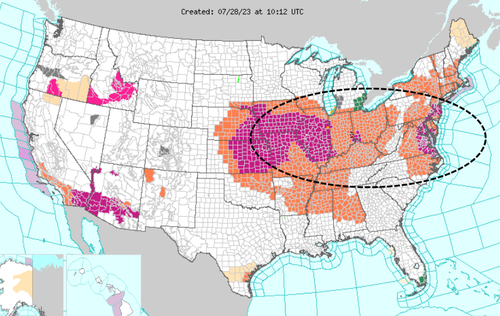 "PJM has issued these alerts to help prepare generators for the onset of intense heat," the grid operator said.  On Thursday, PJM's preliminary peak load was around 148,000 megawatts and is forecasted to peak at around 155,000 megawatts later on Friday.
PJM expects hot weather to persist through Saturday. Bloomberg data reported by ZeroHedge shows average temperatures across the Lower 48 are expected to peak on Saturday and possibly revert to 5-10-30-year averages. Also, notice how the yearly temperature averages have plateaued for the Northern Hemisphere summer.
"A Hot Weather Alert helps to prepare transmission and generation personnel and facilities for extreme heat and/or humidity that may cause capacity problems on the grid. Temperatures are expected to be near or above 90 degrees in these regions, which drives up the demand for electricity," the grid operator said.
The mainstream media and ruling class are going quickly jump to blame "climate change" for this problem. However, power grid woes are likely due to climate change decarbonization policies. Many power companies are bowing to authority and their masters and lowering capacities to comply with the masters and those changes have sparked these instabilities.
Top 10 Signs You Might Be An Obedience Idiot
This could be the right time to make sure preparations are in order for a massive power grid failure, regardless of where you live.
6 Totally Insane Things That Will Happen If Our Power Grid Goes Down
Article posted with permission from Mac Slavo
---