Maryland: Activists & Angry Parents Expose Drag Queen For Running Sex-Oriented Business, Posting Porn Photos Of Nude Men Online – Wants To Read To Children
Activists and angry parents in Maryland have not only begun to expose a graphically degenerate man who dresses as a "drag queen" and wants to read to their children, but they are also giving an earful to their local County Commission about his public conduct.
On Tuesday, July 9, angry parents showed up at their local County Commission meeting in Lexington Park, Maryland.
They were not timid either.
In strongly-worded testimony, they demanded that their representatives put an end to what was going on at their local library.
The group was led by a MassResistance-Maryland mother, Georgia Kijesky.
Take a look at these parents who tell it like it is to their representatives.
"To have grown men dressed as women talking to young children about such outlandish practices is frankly disgusting and vile," said one mother.  "It's very upsetting to me, particularly as a young mother, who would have liked to take my children to the library."
One father said, "Homosexuality or any sexual deviancy … is a very base form of 'knowledge' and I don't think has any merit for any students – the children aren't being given what they could be receiving."
"I take offense that sexually aggressive men who are sexually deviant demand access to our children … this is child abuse," said another woman.
Finally, Kijesky had her opportunity to speak to the County Commission and she didn't mince words, ending her testimony with, "I've been warning you about this for two years. Shame on you for not doing the right thing when you had the chance. We elected YOU, not the A.L.A., not the library officials, to protect our children. We don't want child sex grooming in our libraries! Find a way to solve the problem immediately."
Of course, there was only one lone voice supporting the Drag Queen Story Hour, the head of the Southern Maryland Area Secular Humanists.
All she could do was call the parents bigots, say they were haters and want to kill sodomites and lesbians.  She attempted to claim a First Amendment right that these degenerates have to read to other people's children at the library, something that just does not exist.
She also claimed it was a "popular" program, something that it really isn't given the numbers who actually attend, and said if Christians don't like it, they should stay home.
Interesting how actual rights of parents were being exercised while the ignorant anti-theist claims special rights, which do not exist.
MassResistance has been at the forefront of exposing criminals and pedophile sodomites in these Drag Queen Story Hours that are popping up all over the place to groom our children in their debauchery.
MassResistance reports:
On June 23, a "Drag Queen Story Hour" took place at the nearby Lexington Park Public Library, where homosexual men dressed as garish women read LGBT-affirming story books to young children ages 3-8. They also conducted a "drag queen makeup tutorial" for "tweens and teens" – children 9-19 years old. Their stated goal: "To capture their imagination and give kids positive and unabashedly queer, role models."

The event at the public library was organized by the Southern Maryland Area Secular Humanists, a radical anti-family atheist group that often targets young people with sexuality events, and PFLAG – a national LGBT group targeting youth. The public is repeatedly told that Drag Queens are "role models" for children and have important lessons to teach young people.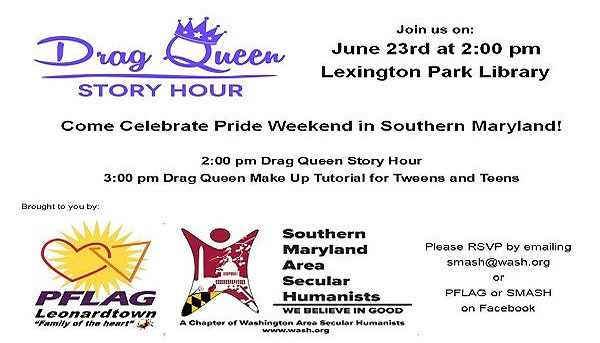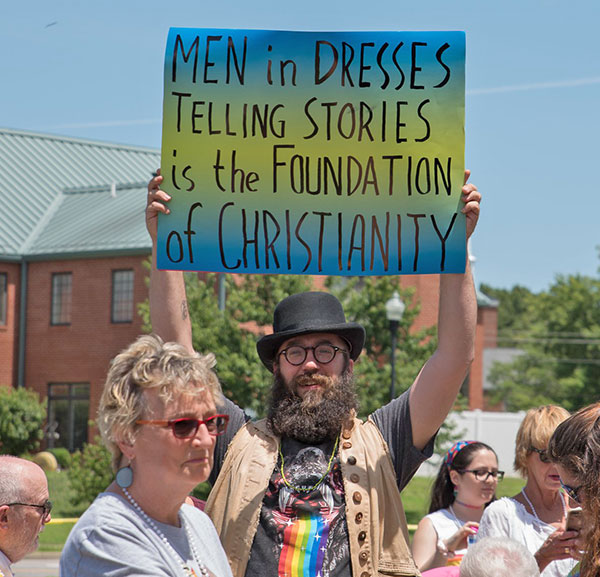 Parents wondered: Just who were these Drag Queens who would be reading to the children on June 23? But both the library staff and the event organizers steadfastly refused to tell the public. It was very upsetting for parents. But a few days after the event, a local newspaper article revealed their stage names, and later the Drag Queens bragged about their "performance" on social media.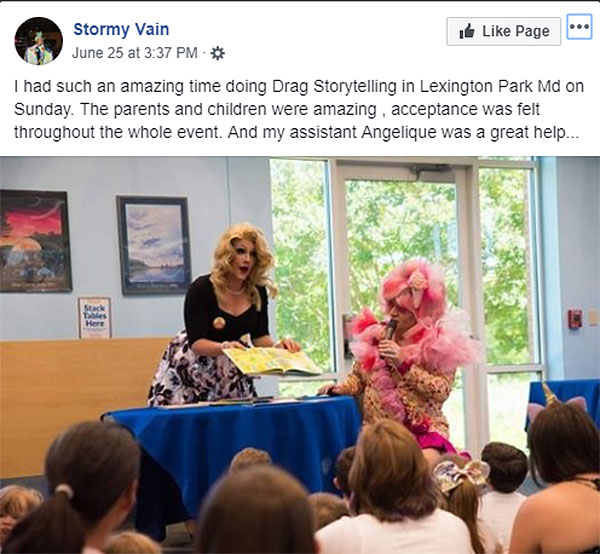 So, Georgia Kijesky, a local Maryland MassResistance mother of four young children, contacted Tracy Shannon, head of Houston MassResistance and an expert researcher.
You may recall that Houston MassResistance is reaching out all over the country to aid courageous parents fighting this plague in the united States.  Recently, they gave aid to parents in Washington state who protested a drag queen at their library.
Tracy, who had exposed the drag queens in the Houston area, set out to expose the one that showed up in Maryland.
And what she discovered demonstrates why these even organizers do not want parents to know the real person behind the drag.
MassResistance reports:
Tracy found that one of the Drag Queens, "Stormy Vain" (real name: Todd Musick), is involved with numerous lurid and pornographic sexual businesses and activities. He runs "Stormy's Angels of Entertainment" and "Eroticasy." Among his business offerings: male escorts/companions, nude maid services, sex toys, hiring out strippers for parties and one-on-one sessions, nude maintenance service, nude personal trainer, nude hair styling, X-rated candies, and "much more."  On his website (now offline), he offered "male companions" under a tab that warned "Nudity!! Must be over 18 to view."

Here's another photo "Stormy Vain" posted of himself on social media.

Our Houston MassResistance activist created a 70-page exposé on "Stormy Vain." We sent a 45-page version of that to the local elected officials and also the news media.

But that report is so graphic and disgusting that (for the first time ever) we have had to create a separate version for our readers. It's still pretty bad. You can read it here.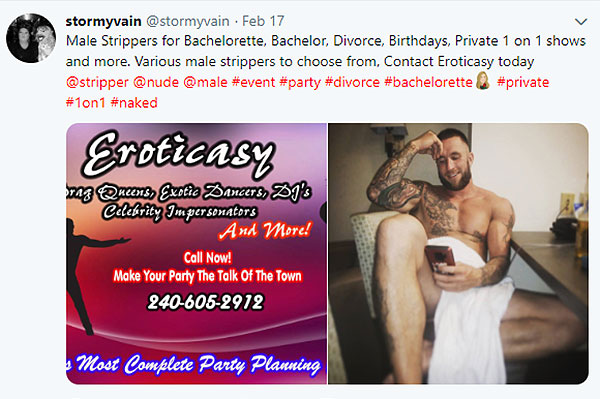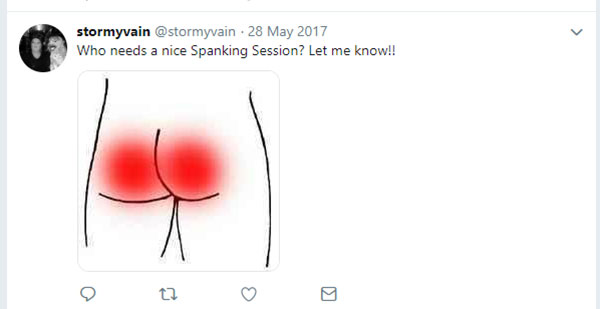 This is a person that the library staff and the organizers believed was perfectly appropriate to be working with young children and teenagers! They clearly knew that the public would be outraged if this were known prior to the event – so they kept his identity hidden. This, unfortunately, is a common problem across the country among with library staff these days, we have found. They are intentionally deceiving the public and acting as "change agents."
Parents have had their eye on the library since it had also featured a "Straight Talk Sex Ed For Teens" in May.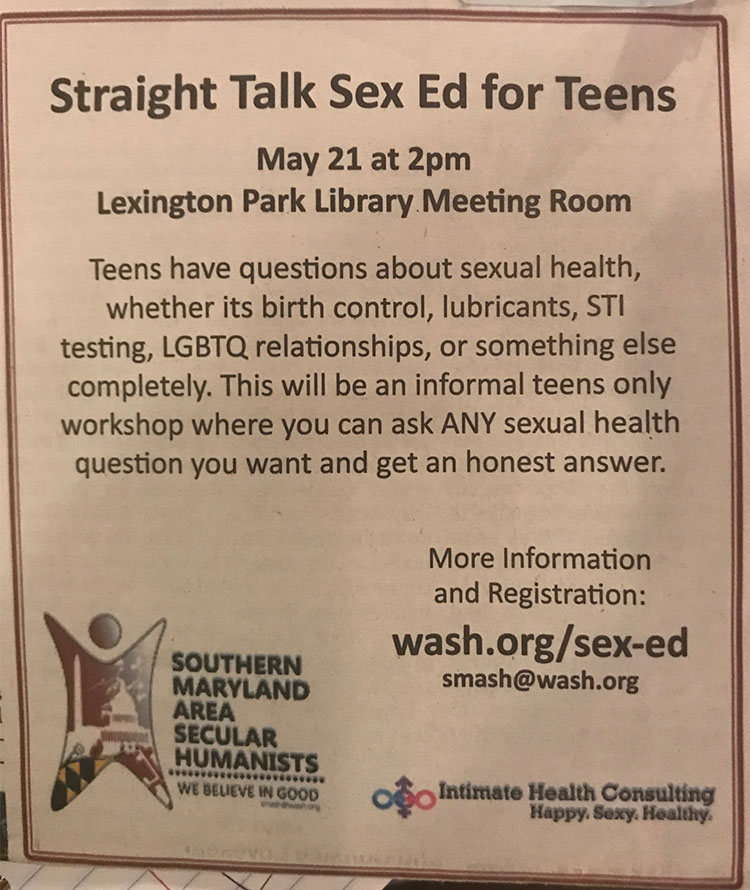 Parents showed up to protest peacefully, but still several police officers were stationed at the door to the library to "protect" the real criminals inside from the parents protesting their unlawful behavior.
MassResistance also pointed out something else that Kijesky discovered.
Later that same year, Kijesky discovered a sexually explicit "Banned Books Display" in the library Through the clever marketing of the "banned books" (which aren't banned or they would not be in the library), kids are enticed to read sexually explicit (and quite graphic) children's books. One of the so-called "banned books" (which are more like instruction manuals) was: The Little Black Book for Girlz: A Book on Healthy Sexuality. Another "banned book" was two boys kissing.
Article posted with permission from Sons Of Liberty Media
---