100 Year Old Christmas List From A 7 Year Old Boy Shows How Materialistic Our Society Has Become
If there were no presents at all, would you still want to celebrate Christmas? 100 years ago, a little seven-year-old boy named Homer Mellen sent Santa Claus a letter asking for "a box of paints, also a nine cent reader, and a school bag to put them in." And he added that if Santa happened to have "any nuts, or candy, or toys to spare" that he would love to have some. My, how times have changed. Today, nearly all of us expect to be showered with presents on Christmas morning, and then almost immediately people begin posting photos of their "Christmas loot" on social media websites such as Facebook. And as you will see below, the "Rich Kids of Instagram" have taken boasting about wealth to an extreme that nobody has ever seen before. Our society has become deeply, deeply materialistic, and whatever "meaning" Christmas once may have had has become almost completely lost at this point.
When I first came across this 100 year old Christmas list, I was quite stunned. First of all, this young boy was able to express himself far better than most seven-year-old boys can today. Secondly, his letter to Santa reflected a sense of humility and thoughtfulness that is extremely rare in this day and age. In case you cannot read the letter that I have posted below, here is what it says…
"Dear Santa Claus," the boy begins in cursive handwriting. "Will you please send me a box of paints, also a nine cent reader, and a school bag to put them in."

He modestly continues, "And if you have any nuts, or candy, or toys to spare, would you kindly send me some." If so, Homer concludes, "You will please a seven year old boy."

The Mellen family kept and cherished this note for 98 years in a little box containing "private little things like locks of hair, or the first picture that was taken," Mellen explained, in order to "put away for memories for grandchildren."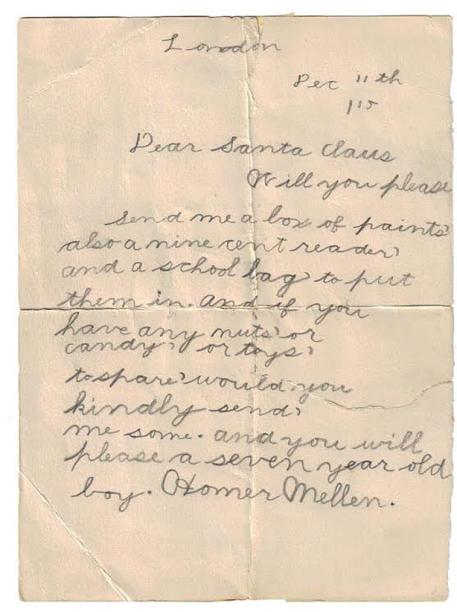 I don't know about you, but that letter touched my heart, and it made me long for an era that has long since passed away.
In 2015, things are very different. Most people spend the month of December eagerly anticipating all of the stuff that they are about to get, and this is ingrained in our children from a very early age.
If you don't think that this is true, just spend some time on the "Rich Kids Of Instagram" Tumblr page this holiday season. You will see example after example of rich kids boasting about the stuff they hauled in over their holidays.
To these young adults, Christmas is far better when you are rich. And from a worldly perspective, it is hard to argue with their logic. Just check out how "rich kid" Serena Marron spent her holiday season last year…
Need a break from parties? Spare a thought for Serena Marron, who is waking up after a week of uninterrupted revelry that started at lunchtime on Boxing Day.

That was when the 20-something student, who lives in New York, stepped off a private jet on the holiday island of St Kitts in the Caribbean and took up residence on a 62m motor yacht called the Apogee.

The next week saw her spend her days lying on the deck of the yacht (which costs £350,000 a week to charter) and nights flexing her Wall Street financier father Donald's credit card inexclusive bars, restaurants andnightclubs.

In just two days, Serena and friends lunched at the £300-a-head Hotel Isle de France on St Barths, drank £150 fishbowl cocktails at the Le Thi nightclub and knocked back £400-a- bottle champagne at Nikki Beach bar.

She ended this bender shortly before dawn yesterday, posing bleary-eyed at£3,000-a-night Villa Rockstar at the Eden Roc hotel.
Does that sound like any Christmas that you have ever had?
And check out how 20-year-old "rich kid" Evan Luthraspends his dough…
Another major spender is self-made millionaire Evan Luthra, who boasts 126,000 Instagram fans.

'I go to clubs and spend maybe $20,000 (£14,000) a night on alcohol or charter a yacht for $50,000 (£33,000) day,' he said.

The 20-year-old who lives in LA has been developing apps since the age of 12 and the wealth he's amassed allows him to travel around by helicopter.

'One of the services I have, it's like Uber for helicopter,' he revealed. 'You press the button and they give you a helicopter near you in five minutes.'

In his downtime, Evan likes to hire a yacht and post an invitation on his Instagram account for people to join him.

Within an hour he'll have 20 girls texting him, eager to come along.
Where did these young people learn to act this way?
The truth is that this is what our society glorifies, and most of our young adults would act like this if they had enough money to do so.
As it is, the average American will spend 830 dollars on Christmas this year. Most people pile up lots of debt on their credit cards buying lots of useless stuff, and much of it will just end up sitting on a shelf somewhere taking up space. But most Americans do this year after year because society tells them that this is what they need to do in order to be happy.
Of course the truth is that most people do not find happiness during the Christmas season. In fact, the rate of suicide spikes to the highest level of the entire year during "the holidays," and one survey found that 45 percent of all Americans say that they dread the Christmas season.
Where did we go wrong?
If Christmas really is all about stuff, what does that mean for those that cannot afford to buy much? Are their holidays "worse" than those that have a lot of money for presents?
It is often said that "whoever dies with the most toys wins", but I totally disagree with that. Our lives are not about the stuff that we accumulate, and we can't take any of it with us when we die. Instead, our lives should be about loving God and loving each other.
Rather than teaching our children to greedily look forward to all of the goodies they are going to get on Christmas morning, what if we taught them to try to be people of great love?
How different would our society look?
Just something for you to think about as you and your family enjoy "the holiday season"…
Take a look at the future of America: The Beginning of the End and then prepare.
---